Responding to Literature with ClarisWorks/Appleworks
Literature: any non-fiction text about animals (ie. Eyes on Nature series by Kidsbooks, Inc)
Software Tool: ClarisWorks for Kids, by Davidson Associates
Additional Internet Resource:
Grade Level: 2-3
Tasks:
Shared or Guided Reading: While reading, call attention to the way authors in non-fiction texts organize paragraphs. Notice that many paragraphs begin with a main idea and then have several details about that idea. Take turns locating paragraphs and decide which sentence gives the main idea and which gives the details.
Center Activity or Guided Reading: Students read pre-selected books that contain information about animals. Students choose an animal to research and use the classification study sheet to locate and write down information about that animal. Later, they can plan the way their slide show will look using the storyboard template.
Center or Partner Activity at Computer: Students use the classification sheet and storyboard template to the computer station and use ClarisWorks to design their slides. Later, slides can be put together in a slide show to share with others.
Product Example:
Animals Slide Show: (These are two sample slides from an animal project completed by third grade students at Dublin City Schools in Ohio.)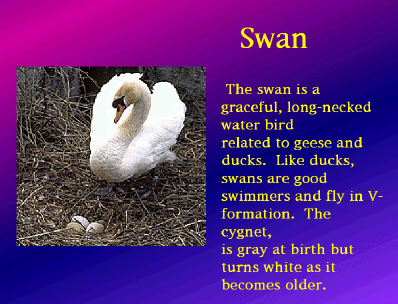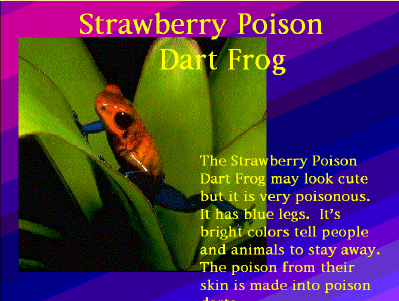 Assessment Idea:
Students who have completed these tasks can be assessed in four areas (quality of text, technology skills, teamwork and overall presentation) using a rubric.