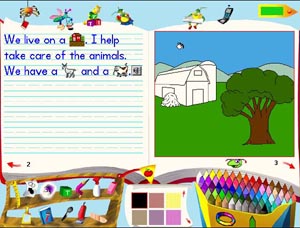 Image from Marilee's Kids Works Ideas
What does it do?
Kid Words Deluxe combines a word processor and paint program into one ultra-fun, multimedia creativity kit. It's packed with inventive tools, animated stamps, wild sound effects,and a special feature that lets the computer read words and stories back to you. Kids can create multimedia books, stories, poems, and more with words, pictures, and sounds,
How does this link to early literacy? Students can respond to books, write/edit/revise their own books, and share their work in full color and animation with others. Their work can be printed out in full color for shared reading, sent home for independent reading in a mini-book format, or compiled into a class collection to be added to your class library. The icons-words button allows children to explore with words they may not know how to spell and include them in their writing. The ability to draw and write on the same screen fosters the transition from "driting" to more traditional writing.