Product Example:
Animal Habitats from Pocantico: The stamps were created using Kid Pix and then the whole picture was imported into Claris HomePage to create an imagemap, which means that when you click on a part of the image, you are linked to a certain location.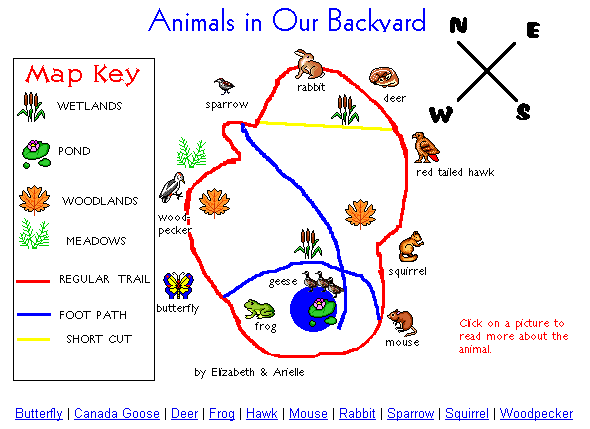 If you click on woodpecker, you'd be linked to the page below, written and illustrated by two 2nd graders.
Product Example #2:
Harriet Tubman slide show from Pocantico: Kid Pix and Netscape Composer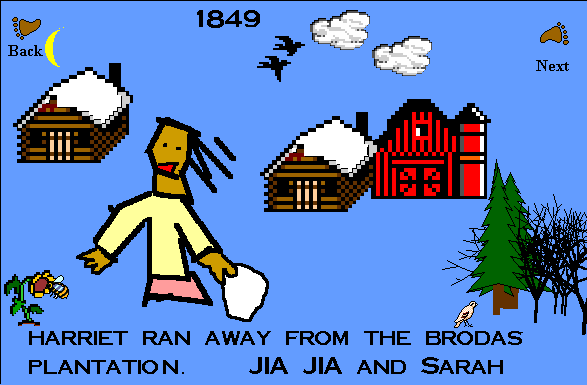 Here's an example of kindergarten student work being posted on the Internet using Netscape Composer as a way to share their class work with others. These are two pages of a response book about why Alexander, in the book Alexander and the Terrible, Horrible, No Good, Very Bad Day, kept saying we wanted to go to Australia. After a year long email project with friends in Australia, the students created many different response projects, one of which was this book (which was also printed out in full color for each student to bring home). The pages were first created in Powerpoint and their drawings were scanned in. Each page includes text written by the child as well as expanded text written by the teacher. What a wonderful example of shared, interactive writing and learning. To learn about the entire project and read the entire book online, visit We Know Why Alexander Wanted to Move to Australia, created by a teacher in Norwich, CT.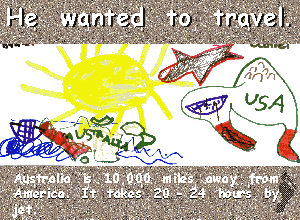 Child's text: He wanted to travel. (written by Daniel)
Teacher's text: Australia is 10,000 miles away from America. It takes 20-24 hours by jet.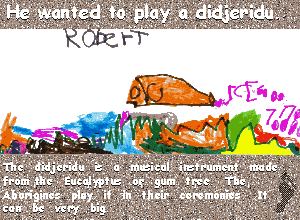 Child's text: He wanted to play a didjeridu (written by Robert)
Teacher's text: The didjerifu is a musical instrument made from the Eucalyptus or gum tree. The Aborigines play it in their ceremonies. It can be very big.