Tut's Mummy, Lost ... and Found
by Judy Donnelly
Inspiration Template
Purposes:
1. locate and sequence important details from the story
2. develop awareness of an outline with main headings and details
3. use electronic organizer tool to manipulate details through an outline format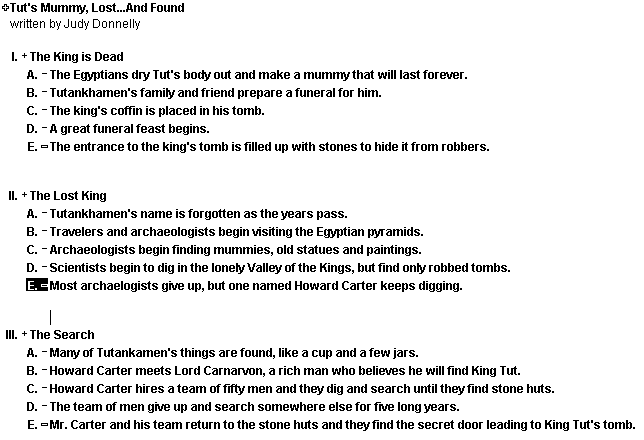 This outline represent five important details from each chapter of the text. To prepare this activity for students, the teacher scans through the book and types in major headings and important details ahead of time and saves this outline. To prepare the sequencing activity for students, first save a copy of this file. Then use the tools in Inspiration to mix up the sequence of five events within each chapter by dragging them to a new location. Students are given this "mixed-up version" and small groups are assigned to each chapter. Using the book to refer to, the students open up the mixed-up template and drag the events back into the correct order. Discussion can follow during which each group presents their sequence and the rest of the class decides if they are correct by revisiting the text to locate the details within each chapter.
The following screen shot shows an example of what they "mixed-up version" of Chapter 1 might look like to the students as they begin their sequencing activity. Compare it to the correct version above.

For advanced students, this outline could even be used before students read the book as a prediction type of activity. This way, students are given exposure to most of the important details (although not in the correct order), which helps prepare them to read. After each chapter is read, they can go back and revise their template file to make the sequence match the story.
As an extension activity, the group assigned to each chapter could then be asked to type these important details into Kid Pix Studio (or HyperStudio) so that they form a summary sentence and then add an illustration that includes those details to accompany the summary text on a slide. A five card summary slide show may be the end product.